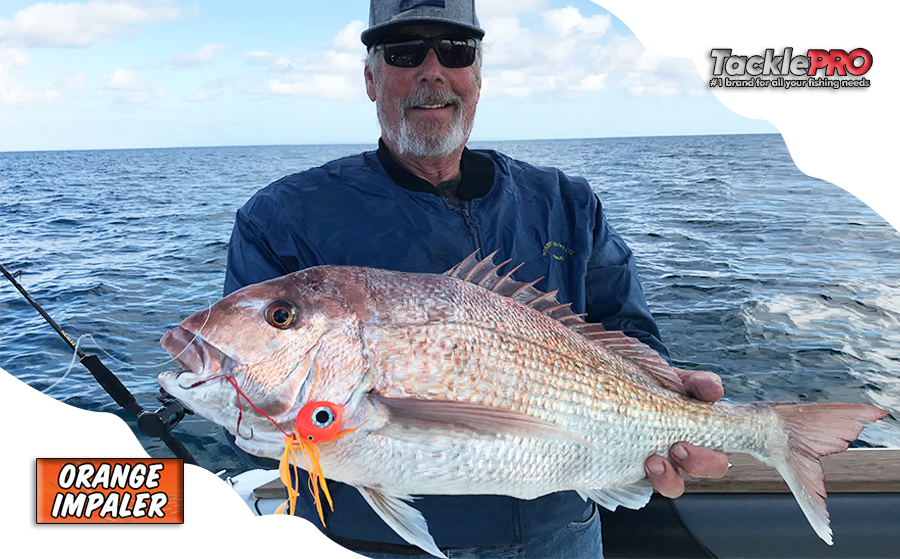 Here's What Bill Had To Say...
We had been out on the water since 8.30am and were heading home around 2.00pm.  Conditions seemed right to stop and have another go – we were in about 42 meters with a slight south easterly breeze on what was a beautiful day…
We had a new Lure that we wanted try, the thing I liked about this particular lure was the skirt. Made from a unique rubbery material, this two colour skirt had alot more material than I'm used to with other similar lures.
Added to that, it had a curly tail that I had never seen before and I thought that could create an enticing action through the water to attract the fish.
So, after coming to a stop we waited for the boat to settle in the water and dropped our new 140 gram TacklePro Kabura Lure all the way down to the bottom…
Once it hit the bottom I began a slow wind back up – no bites after a 10 meter wind so I dropped the lure back to the bottom and started again…
On the 5th attempt I hooked up and after a couple of strong runs began the slow wind up to land this nice Spring snapper
The TacklePro Lure did its job and I'll definitely be using them again.
TacklePRO Orange Impaler - 140 gram Kabura
Product Specs:
Code: PM612035
Weight: 140 grams
2 Colour Full Bodied Skirt
Unique Curly Tail Entices Fish
Special Rubberised Material
RRP – $23.00
Check Out The Full Of TacklePro Kabura Style Lures